Tag Archives:
Seo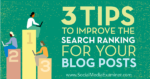 Are your blog posts ranking lower in search than you'd like? Do you want to rank higher for specific keywords? In this article, you'll discover tools and tips to help you improve the search ranking of your blog posts. How Ranking for Keywords Has Changed Optimizing your blog post to rank high in search engines [...]
This post 3 Tips to Improve the Search Ranking for Your Blog Posts first appeared on .
- Your Guide to the Social Media Jungle
Ask ten people what SEO is, and you're likely to get ten different answers. Given the industry's unsavoury past, this is hardly surprising. Keyword stuffing, gateway pages, and comment spam earned the first search engine optimisers a deservedly poor reputation within the web community.
Snake oil salesmen continue to peddle these harmful techniques to unsuspecting website owners today, perpetuating the myth that optimising your website for Google or Bing is an inherently nefarious practise. Needless to say, this is not true.
The post Technical SEO 2015: Wiring Websites for Organic Search appeared first on Smashing Magazine.